Past chili Challenge Winning Recipes

1995 Tarantula Jack's Chili by Dr. Charley & Ellen Safley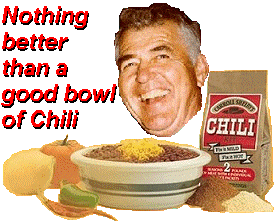 3lbs. lean beef, diced

3 12 oz. cans tomato sauce

1 10 ounce can Chicken broth

2 medium size sweet onions, diced

3 large cloves of garlic, crushed

7 tablespoons chili powder

2 tablespoons ground cumin seed

1/4 teaspoon tabasco sauce

1 generous jolt tequila
Lightly brown the beef, onions and garlic together in a little cooking oil, then dump in everything else. Simmer covered for a while, then uncovered for a while to thicken. Stir the mess frequently during all the cooking time, about two hours total. Any tequila left in the bottle helps to pass the time !
---
1996 & 1997 Chili Con Carne by Phyllis Greene
3 pounds ground Turkey (or meat of your choice)

2 26oz. cans S&W Chili Sauce with beans (this is the "beaniest" with just the right spices)

2 15oz. cans stewed tomatoes

1 can of water (or consistency to your taste)

1/2 cup chopped onion

1 Tbsp Beef or Chicken bouillon flavoring
Brown meat, then add chopped onions and flavoring (or other spices), add tomatoes, add water and then add the S&W Chili sauce. Simmer until heated thoroughly.
---
1998 Scorching Hot Chili by Randy Betki
Get in the car and go to Eastern Market in Detroit to obtain fresh hot chili peppers. I use a variety of
Habanero, Jalapeno, and some type of finger pepper that will take the paint off the wall if they come in
contact.
Take 1 lb. cube beef , 1 lb. cubed pork and cut into small pieces about 1/2 inch square, and 1 lb. Italian
sausage (hot) and brown in a frying pan.
Place the browned meat in a somewhat flat pan. Cut the peppers into very small pieces and place over
the top of the meat. Be very careful not to touch parts of your body (i.e. eyes, or ??!!) after cutting the
peppers, or you may have an experience that you will never forget! Cover the mixture with plastic wrap
and set in the fridge over night.
The next day you start out by boiling 2 beef bouillon cubes. Place the meat, peppers and bouillon in a
pot. Add in some finely chopped onions, chopped by hand, no using a veg-a-matic, the taste is not the
same. Something about ones' own sweat that the veg-a-matic leaves out that adds to the flavor.
Next add a couple mashed cloves of garlic, a can of beer ( your call as to what brand) , a couple
splashes of tequila, about a couple mouth fulls of cayenne pepper and chili powder, half a bottle of
good hot BBQ sauce, half a bear of honey. That's right half a bear. The honey came in a bear shaped
container and I used half of it! Simmer all this for a good 3-4 hours at just under a boil. If the fluid looks
like it is boiling off, replace it with beer and tequila! I left out some other secret ingredients that I include
for a really hot chili but this should give you a something to clean out ones sinus'.
---
1999 White Chili by Craig & Bonnie Shefferly
1 Whole Chicken (Boil & Shred Chicken & debone) or use boneless Chicken

1 Large jar of white northern beans

1 Jar of (medium) salsa I use Chi-Chi's brand

2 Tbsp. of cumin

Salt and Pepper to taste
Cook for appox. 1 hour on medium heat. As an option, sprinkle top with Monterey Jack cheese when
serving.
That's it, very easy. Hope all who wants enjoys.
---
2000 Y2K Chili by Mike Mulcahy
Pork Stew meat package, (maybe a pound?)

Cayenne Pepper

Tomato Sauce

Tomato Paste

Sugar to take the edge off the tomato sauce

Carroll Shelby's Chili Fixin's, (but no mesa flour)
As for quantities, I just threw it all into a crock pot and let it simmer on high all day.
---

Carroll Shelby's Chili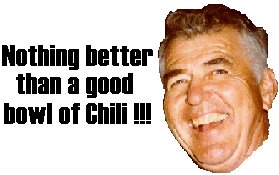 Chili Challenge Winner of Terligua, Texas

I guess I've cooked, eaten and judged about as much chili as anybody around, and I think my chili mix will help you make the best "bowl of red" east or west of the Panhandle. With my special spices, you can fix a mouthwaterin' batch of chili to suit your own taste, no matter whether you like your chili hot or not. Follow the recipes listed here or add your own special touches. However you prepare it, I hope you enjoy it as much as I do !
- CARROLL SHELBY
Quick Chili (Makes 5 1-cup servings)
Brown 2 lbs. of ground beef in a large skillet. Drain fat.

Dump in one 8 oz. can tomato sauce and 2 cups of water.

Add in the Carroll Shelby Chili mix spice packet and salt you your likin'. If you want
it hot, dump in the cayenne pepper packet, but go easy unless you're real brave.

Cover and simmer for 15 minutes, stirring occasionally.

For thicker chili, mix up the Masa flour packet with 1/4 cup of water added. Stir in
and let simmer for 5 more minutes.
Quicker Chili (If you're in a real hurry)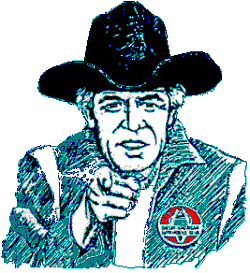 Microwave 2 lbs. of ground beef on High in a 2 qt. bowl 6-8 minutes or until meat looses pink color when stirred. Drain fat.

Stir in 8 oz. can of tomato sauce, 2 cups water, large spice packet and salt to taste.
If you want it hot, add some cayenne pepper. cover with lid or plastic wrap opened at one side.

Microwave on High 8 minutes or until thoroughly heated, stirring every 4 minutes.

For thicker chili, stir in the Masa flour packet along with 1/4 cup of water and microwave on high 1 minute more.
Honest to Texas Chili
Follow the "Quick Chili" recipie but substitute 2 lbs. cubed or coarsely chopped beef for the ground beef. Brown in 1 tbsp. oil. Increase cooking time to 1 hour (It's worth the wait!) or until tender, stirring occasionally to prevent sticking. True Texans and other brave souls may want to add an extra dose of red pepper to give it that extra kick !
Your Own Chili
Your choice on any or all of the followin' variations, Partner.
Add chopped onions or green peppers when brownin' beef.

Like more tomato in your chili? Add 14 oz. can of tomatoes, chopped, and only 1 cup of water with the 8 oz. can of tomato sauce.

Throw in a 16 oz. can of kidney or pinto beans during the last 5 minutes of cookin'.

Top off your creation (cool down the fire in your mouth) with: Shredded Cheese, Sour
Cream or Chopped Tomatoes.

Also great over taco salads, hot dogs, spaghetti and hamburgers.


---
Enough Chili to Feed an Army - All Beef Texas Chili by Trish Judson-Guyer
Serving Size : 200 people Preparation Time 2 hours, 30 minutes
1 3/8 quarts (approximately) corn oil

100 pounds beef chuck -- in 1/2-inch cubes

1 cup minced onion

1 3/8 quarts minced garlic

3 1/8 gallons (approximately) beef broth

3 1/8 gallons flat beer

1 1/2 gallons water

1 1/8 quarts high-quality chili powder, or more -- to taste

100 pounds tomatoes (three 2 lb. cans) -- drained and chopped

1 3/8 quarts tomato paste

1 1/2 cups minced fresh oregano

1 1/2 pints cumin seed

Salt -- to taste

Cayenne pepper -- to taste

Masa harina or cornmeal -- if needed
Brown beef in batches, adding more oil as necessary and transferring meat with a slotted spoon to a large stockpot when well browned. Do not crowd skillet.

Reduce heat to moderately low. Add onion and garlic and saute until softened (about 10 minutes). Add to stockpot along with broth, beer, the water, chili powder, tomato, tomato paste, and oregano.

In a small skillet over low heat, toast cumin seed until fragrant; do not allow to burn. Grind in an electric minichopper or with a mortar and pestle. Add to stockpot.

Over high heat bring mixture to a simmer. Add salt, cayenne, and more chili powder to taste. Reduce heat to maintain a simmer and cook, partially covered, until beef is tender (about 1-1/2 hours). Check occasionally and add more broth if mixture seems dry. If chili is too thin when meat is tender, stir in up to 2 cups masa harina. Cook an additional 5 minutes to thicken. Serve chili hot.
NOTES : No Texan worth his or her ten-gallon hat would put beans in chili. This one's
all beef, calling on beer and freshly ground cumin to give it distinction. Masa harina, the
finely ground corn used for corn tortillas, is often used to thicken soups or chili. It is
available in Latin markets and some supermarkets.
---
The Tale of the Chili Taste Tester
Notes From An Inexperienced Chili Taster Named FRANK, who was visiting Texas from
the East Coast: "Recently I was honored to be selected as a judge at a chili cook-off. The
original person called in sick at the last moment, and I happened to be standing there at
the judge's table asking directions to the beer wagon when the call came. I was assured
by the other two judges (Native Texans) that the chili wouldn't be all that spicy, and
besides, they told me I could have free beer during the tasting, so I accepted. Here are
the scorecards from the event:
Chili # 1: Mike's Maniac Mobster Monster Chili
JUDGE ONE: A little too heavy on tomato. Amusing kick.
JUDGE TWO: Nice, smooth tomato flavor. Very mild.
FRANK: Holy crap, what the hell is this stuff? You could remove dried paint from your driveway. Took me two beers to put the flames out. I hope that's the worst one. These Texans are crazy.

Chili # 2: Arthur's Afterburner Chili
JUDGE ONE: Smoky, with a hint of pork. Slight Jalapeno tang.
JUDGE TWO: Exciting BBQ flavor, needs more peppers to be taken seriously.
FRANK: Keep this out of reach of children! I'm not sure what I am supposed to taste besides pain. I had to wave off two people who wanted to give me the Heimlich maneuver. They had to rush in more beer when they saw the look on my face.

Chili # 3: Fred's Famous Burn Down the Barn Chili
JUDGE ONE: Excellent firehouse chili! Great kick. Needs more beans.
JUDGE TWO: A beanless chili, a bit salty, good use of red peppers.
FRANK: Call the EPA, I've located a uranium spill. My nose feels like I have been snorting Drano. Everyone knows the routine by now, get me more beer before I ignite. Barmaid pounded me on the back; now my backbone is in the front part of my chest. I'm getting drunk from all the beer.

Chili # 4: Bubba's Black Magic
JUDGE ONE: Black bean chili with almost no spice. Disappointing.
JUDGE TWO: Hint of lime in the black beans. Good side dish for fish or other mild foods, not much of a chili.
FRANK: I felt something scraping across my tongue, but was unable to taste it, is it possible to burn-out taste buds? Sally, the bar maid, was standing behind me with fresh refills; that 300 lb. broad is starting to look HOT, just like this nuclear-waste I'm eating. Is chili an aphrodisiac?

Chili # 5: Linda's Legal Lip Remover
JUDGE ONE: Meaty, strong chili. Cayenne peppers freshly ground, adding considerable kick. Very impressive.
JUDGE TWO: Chili using shredded beef; could use more tomato. Must admit the cayenne peppers make a strong statement.
FRANK: My ears are ringing, sweat is pouring off my forehead and I can no longer focus my eyes. I farted and four people behind me needed paramedics. The contestant seemed offended when I told her that her chili had given me brain damage. Sally saved my tongue from bleeding by pouring beer directly on it from a pitcher. I wonder if I'm burning my lips off? It really pisses me off that the other judges asked me to stop screaming. Screw those guys !

Chili # 6: Vera's Very Vegetarian Variety
JUDGE ONE: Thin yet bold vegetarian variety chili. Good balance of spice and peppers.
JUDGE TWO: The best yet. Aggressive use of peppers, onions, and garlic. Superb.
FRANK: My intestines are now a straight pipe filled with gaseous, sulfuric flames. I shit myself when I farted and I'm worried it will eat through the chair. No one seems inclined to stand behind me except that Sally woman, she must be kinkier than I thought. Can't feel my lips anymore. I need to wipe my butt with a snow cone!

Chili # 7: Susan's Screaming Sensation Chili
JUDGE ONE: A mediocre chili with too much reliance on canned peppers.
JUDGE TWO: Ho Hum, tastes as if the chef literally threw in a can of chili peppers at the last moment. I should note that I am worried about Judge Number 3. He appears to be in a bit of distress as he is cursing uncontrollably.
FRANK: You could put a grenade in my mouth, pull the pin, and I wouldn't feel a damn thing. I've lost the sight in one eye, and the world sounds like it is made of rushing water. My shirt is covered with chili which slid unnoticed out of my mouth. My pants are full of lava-like crap to match my damn shirt. At least during the autopsy they'll know what killed me. I've decided to stop breathing, it's too painful. Screw it, I'm not getting any oxygen anyway. If I need air, I'll just suck it in through the 4 inch hole in my stomach.

Chili # 8: Helen's Mount Saint Chili
JUDGE ONE: A perfect ending, this is a nice blend chili, safe for all, not too bold but spicy
enough to declare its existence.
JUDGE TWO: This final entry is a good, balanced chili, neither mild nor hot. Sorry to see that most of it was lost when Judge Number 3 passed out, fell over and pulled the chili pot down on top of himself. Not sure if he's going to make it. Poor FRANK, wonder how he'd have reacted to a really hot chili?
FRANK: --------------(editor's note: Judge #3 was unable to report)