| | |
| --- | --- |
| | 1964 1/2 - Job 1 |
Click on a photo below to enlarge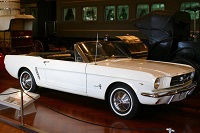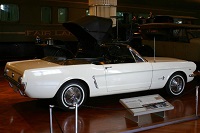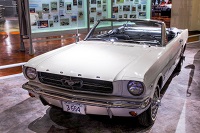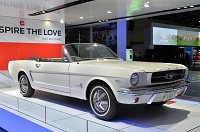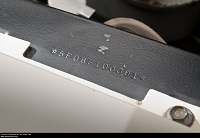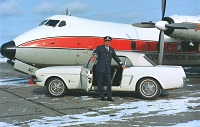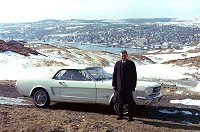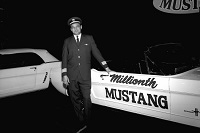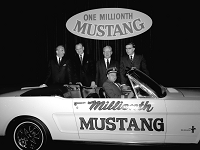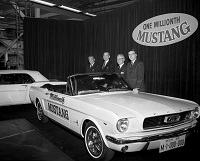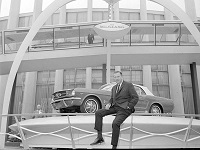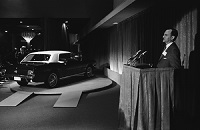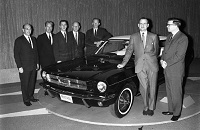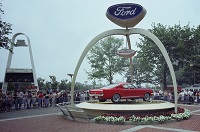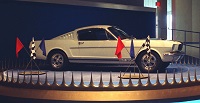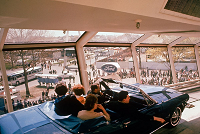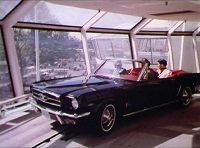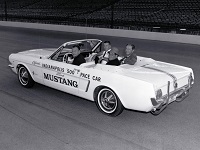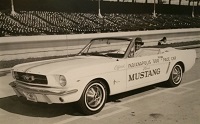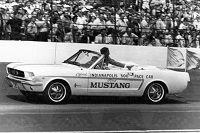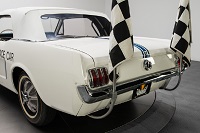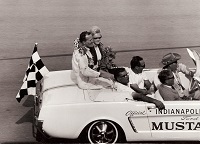 Stanley Tucker and Ford Mustang Serial Number One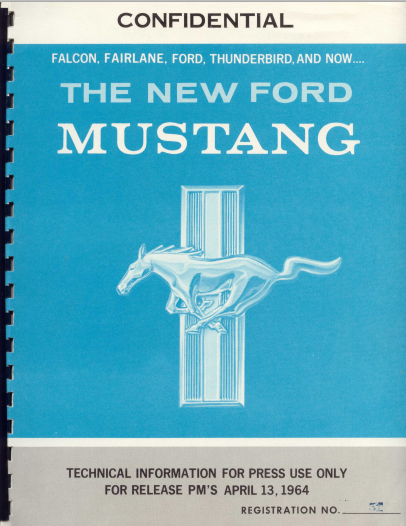 It's ironic – like, in the actual "opposite of what you'd expect" way as opposed to the "merely coincidental" way in which the term is often misused. The Ford Mustang is revered as one of the most "American" of all cars. Its name conjures up images of the Wild West. Its early logo incorporated red, white and blue stripes. The car's very look is based on our country's obsessions with speed and style. And yet Mustang Serial Number One, sold 50 years ago, went to a Canadian. Yeah, that's irony.

On April 14, 1964, Eastern Provincial Airlines pilot Stanley Tucker walked into George Parsons Ford, a dealership perched on the eastern edge of the continent in St. John's, Newfoundland. It was love at first sight. The sharp-looking Wimbledon White convertible jumped out at the 33 year-old pilot, and he knew he had to have it. We don't know the name of the person who sold the car to Tucker – but the pilot must have been quite a salesman himself. Somehow, he convinced Parsons Ford to break street date and sell him the car three days before April 17, when Ford officially released Mustang to the world. He took serial number 5F08F100001 home and, for a short time, was the general public's only Mustang owner.

Mustang Serial Number One should not have been sold on that early date. In fact, it shouldn't have been sold at all. The car was one of approximately 180 pre-production cars built at the Rouge between February 10 and March 5, 1964. These initial cars served two purposes: 1.) They eased Ford into full production by familiarizing workers and supervisors with the build process, and 2.) They formed a batch of physical cars that could be shipped to every major Ford dealer in time for the April 17 launch. Logically, the first cars built were sent to the farthest dealers – hence Serial Number One wound up 2,180 miles from Dearborn in St. John's. (Twelve of these pre-production cars, incidentally, went to the New York World's Fair for use in Ford's Magic Skyway ride.)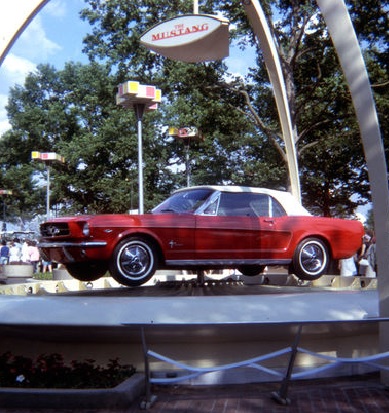 Being a pre-production or, if you will, "practice" car, Serial Number One has a few quirks not seen in regular Mustangs. Careful observers will notice that the hood's fit is a little crooked. The door lock knobs have no grommets at their bases. The front grille's color tends more toward gray than the bluish hue seen on regular production cars. The engine block is painted gray instead of the black on later Mustangs. Little details like these changed after full production began on March 9.

Not long after Capt. Tucker made his purchase, Ford tracked him down and asked to have Serial Number One back. Not surprisingly, Tucker declined the request. He spent the next two years putting some 10,000 miles on his pony car. By early 1966, when nearly one million Mustangs had been sold and the car's status as a Ford landmark was secure, the Blue Oval called again. This time, Ford offered Tucker a worthy trade: in exchange for returning Serial Number One, he could have the One Millionth Mustang, equipped to his specifications. Tucker agreed and, when filling out the order, covered the entire option sheet with single large "X." The only extra he didn't take was the High Performance 289 engine – it carried a shorter warranty period.

Tucker came to Dearborn on March 2, 1966, met Ford vice-president (and Mustang father) Lee Iacocca, and posed for photos with his new Silver Frost 1966 Mustang convertible. Meanwhile, Ford reclaimed Tucker's much-loved Serial Number One and soon donated it to The Henry Ford Museum. Seventeen years after the trade, when Mustang Monthly magazine caught up with Tucker, the pilot expressed some understandable regret that he'd let go of Serial Number One. As we celebrate 50 years of Mustang, though, we can be grateful that 5F08F100001 is preserved for all to enjoy. Many of its visitors, upon seeing the car in Henry Ford Museum, get that same gleam in their eyes that Stanley Tucker must have gotten all those years ago.