Click on an image below to enlarge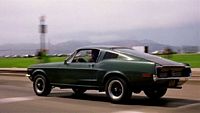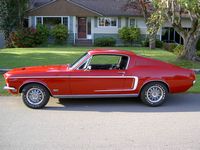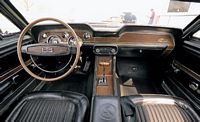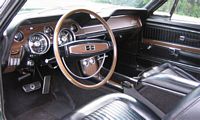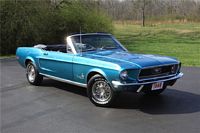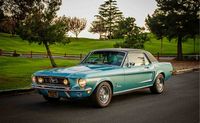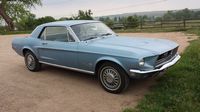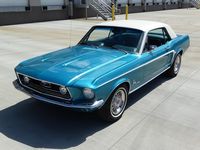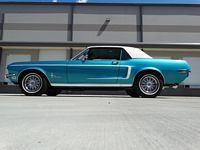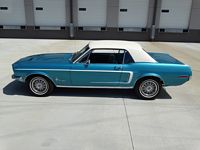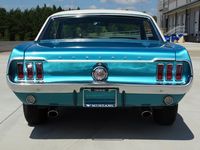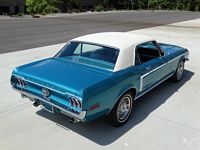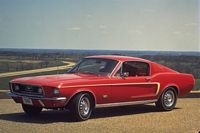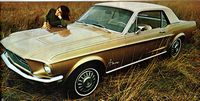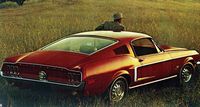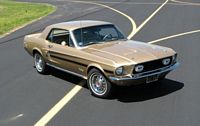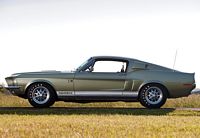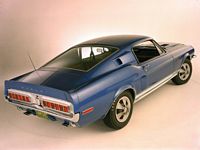 Changes for the 1968 model increased safety with a two-spoke energy-absorbing steering wheel, along with newly introduced shoulder belts. Other changes included front and rear side markers, "FORD" lettering removed from hood, rearview mirror
moved from frame to windshield, a 302 cu in (4.9 L) V8 engine was now available, and C-Stripe graphics were added.
The California Special Mustang, or GT/CS, was visually based on the Shelby model and was only sold in Western states. Its
sister, the 'High Country Special', was sold in Denver, Colorado. While the GT/CS was only available as a coupe, the 'High
Country Special' model was available in fastback and convertible configurations during the 1967 model year, and as a coupe
for 1968.
Click on images below to enlarge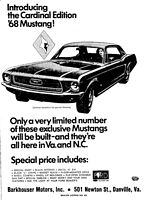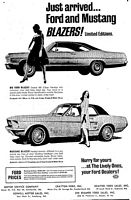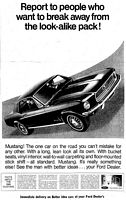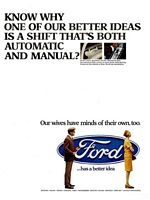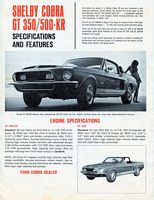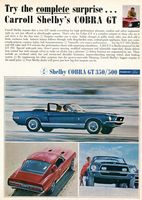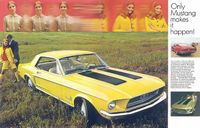 For the 1968 1/2 model year, Ford introduced the Cobra Jet Mustangs. These Mustangs were equipped with the 428 c.i.d.
Cobra Jet engines. These "fast" Mustangs proved to be a terror on the drag strips taking top honors at the
NHRA Winternationals in 1968.
Click on images below to enlarge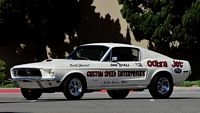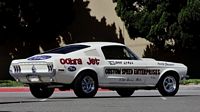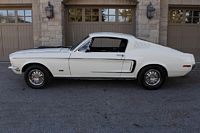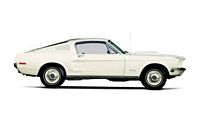 Also debuting in 1968 were the Shelby GT500 KR Mustangs. Beginning in April 1968, Ford began factory installing a version
of the 428 engine known as the "Cobra Jet". The GT500 was subsequently known as The Shelby GT500 KR. The initials KR
stood for "King of the Road." Ford rated the Cobra jet at 335 horsepower (250 kW), but with 440 foot-pounds of torque at
3400 RPM, the horsepower was considered significantly underreported. Shelby's KR engine was left stock adding die-cast aluminum valve covers with "Cobra LeMans" to note Ford's FE engine family victory over Ferrari at Le Mans in 1966 and 1967.
The 1968 Ford Mustang GT Fastback reached iconic Movie Star status after it was featured in the 1968 film Bullitt, starring
Steve McQueen. In the film, McQueen drove a modified 1968 Mustang GT 2+2 Fastback chasing a Dodge Charger through
the streets of San Francisco. The movie would prove to define the "Car Chase" for many years to come in Hollywood.