1969 Mustang
The Boss cars debut

Click on an image below to enlarge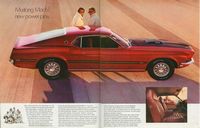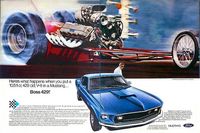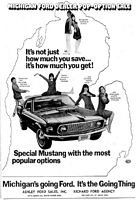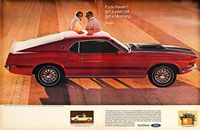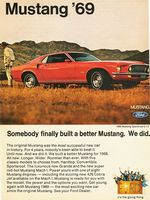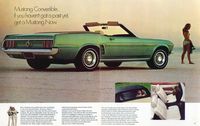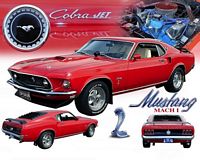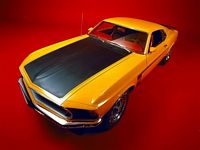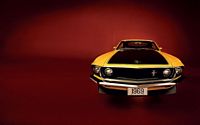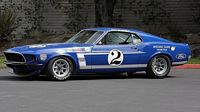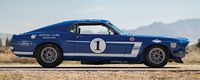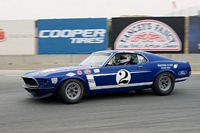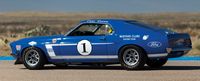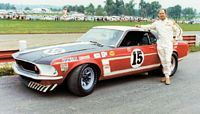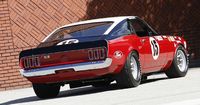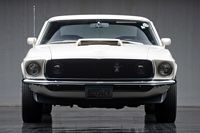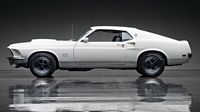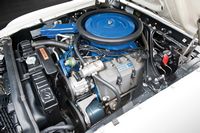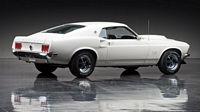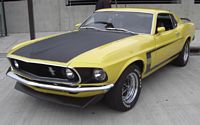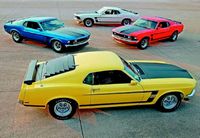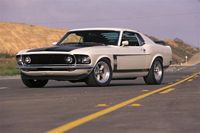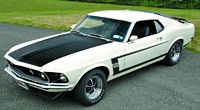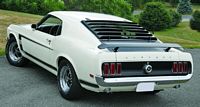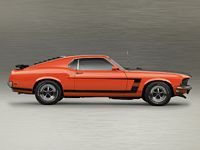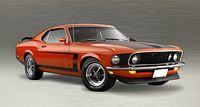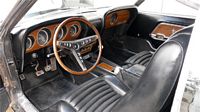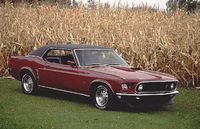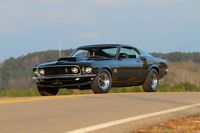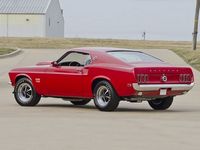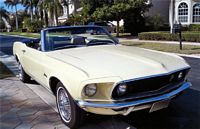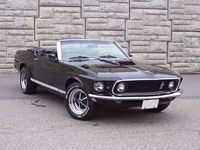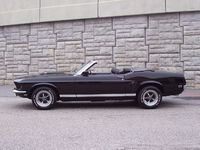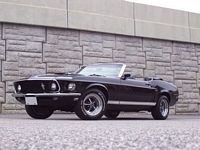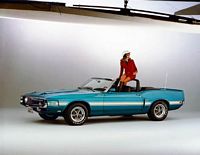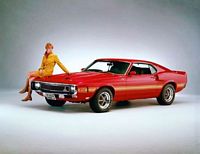 The 1969 model year restyle "added more heft to the body" with body length extended by 3.8 inches (97 mm) (the wheelbase remaining at 108 inches), width increased by almost half an inch, and the Mustang's "weight went up markedly too." 1969 was the first model to use quad headlamps placed both inside and outside the grille opening. The corralled grille pony was replaced with the pony and tribars logo, set off-center to the driver's side. The car was longer than previous models and sported convex rather than concave side panels. The fastback body version was renamed Sportsroof, stated as SportsRoof in Ford's literature.

The 1969 model year saw the introduction of the Mach 1, with a variety of powerplants options and many new styling and performance features. Distinctive reflective striping was placed along the body sides, with a pop-open gas cap, dual exhausts, matte-black hood with simulated air scoop and NASCAR-style cable and pin tiedowns. It used steel wheels with bold-lettered Goodyear Polyglas tires. A functional "shaker" hood scoop - which visibly vibrated by being attached directly to the air cleaner through a hole in the hood - was available, as were tail-mounted wing and chin spoilers and rear window louvered blackout shade. The Mach 1 featured a deluxe interior with simulated wood trim, high backed seats, extra sound deadening, remote sports mirrors and other comforts. The Mach 1 proved popular with buyers with 72,458 cars sold through 1969.

The Boss 302 was created to meet Trans Am rules and featured distinctive body side stripes, while the understated Boss 429 was created to homologate the Boss 429 engine (based on the new Ford 385 series engine) for NASCAR use. The two Boss models received fame on the track and street and to this day they still demand premium pricing for their pedigree. 1628 Boss 302's and 859 Boss 429's were sold through 1969 - making these vehicles somewhat rare.
The Boss 429 is arguably one of the rarest and most valued muscle cars to date. In total there were 1,358 original Boss 429s made. The origin of the Boss 429 came about as a result of NASCAR. Ford was seeking to develop a Hemi engine that could compete with the famed 426 Hemi from Chrysler in NASCAR's Sprint Cup Series (then known as "Grand National Division"). NASCAR's homologation rules required that at least 500 cars be fitted with this motor and sold to the general public. After much consideration, it was decided by Ford that the Mustang would be the car that would house this new engine.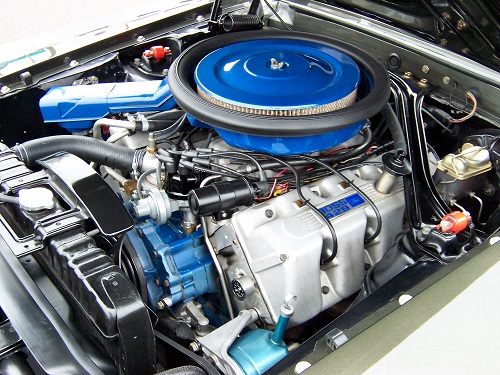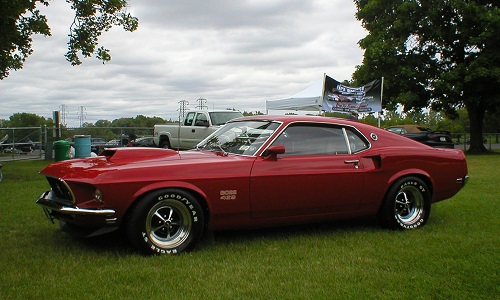 Click on an image above to enlarge
The Boss 429 engine was derived from the Ford 385 engine. It used four-bolt mains, a forged steel crank and forged steel connecting rods. The engine featured aluminum cylinder heads, with a modified Hemi type combustion chamber which Ford called "crescent". These heads used the "dry-deck" method, meaning no head gaskets were used. Each cylinder, oil passage and water passage had an individual "O" ring style seal to seal it tight. The Boss 429 engine used a single Holley four barrel carburetor rated at 735 CFM mounted on an aluminum intake manifold that flowed well for its time. 1969 cars featured a hydraulic lifter camshaft while 1970 models got a mechanical lifter camshaft along with an improved dual exhaust system though rated power output stayed the same.
The Mustang's engine compartment was not wide enough to accommodate the massive Boss 429 engine. As a result Ford assigned Kar Kraft of Dearborn, MI to modify 4 speed Cobra Jet Mustangs to accept the new Boss 429 Engine. Kar Kraft was a Ford exclusive contracted experimental vehicle facility that functioned as Vehicle Engineering for Ford Special Vehicles.
Production of the Boss 429 began in 1968 at Kar Kraft's new assembly plant in Brighton, Michigan; the cars were transported to this plant directly from the Ford Rouge plant. The new, revised, front apron assemblies that accepted the large Boss 429 engine had been installed by the Rouge plant as the base vehicles were being built; this produced a stronger and cleaner front structure. The reworked front fenders were also installed at the Rouge plant.
Next the battery was repositioned to the trunk and a stiff 3/4" sway bar was added to rear end to improve handling since the car was now nose heavy. This was the first Mustang ever fitted with a rear sway bar, and it notably handled much better than other big-block Mustangs of the time, making it a very capable track car. It came fitted with an 8,000rpm tachometer, and AM only radio. In addition, a hole was cut in the hood, and a manually controlled hood scoop was added to these cars. Other features included a front spoiler that was shallower than the Boss 302 spoiler, color keyed dual racing mirrors, and an engine oil cooler. It was also equipped with a 3.91 ratio rear axle with a "Traction-Lock" limited slip differential.
The cars were rated very conservatively at 375 hp and 450 lb·ft of torque. Actual output was well over 500 horsepower. Some people have claimed it to produce 600 or more horsepower, citing extensive testing to prove the results, though nothing has been actually proven. However, it is very easy to coax such power out of the semi-hemi engine due to it being factory de-tuned for street-ability purposes. These horsepower claims have been proven from many dynamometer test results over the years with factory stock engines; some rebuilt to factory specs, and others pulled directly from the cars themselves immediately after purchase, though specific output tends to vary per engine due to testing parameters. The 429 Drag Pack option from Ford at the time (which was a normal 429 SCJ and not the Boss version which made more power) had 495 horsepower, which was quite impressive for the time, however it should be noted that these ratings were strictly engine crank horsepower, and not actual wheel horsepower figures. The manufacturers and dealers only listed 375 hp because of legal issues and rising insurance costs so customers would be lured into buying these cars without the stiff fees from an insurance company, though no manufacturer has ever stated this to be true, assumingly so to prevent possible lawsuits. Despite the high horsepower and torque ratings, the car was at home in the high RPM range (the engine is said to be able to rev up to 9,000rpm for extended periods of time, which is impressive given the engines massive 7.0L displacement, though were factory limited to 6,200rpm for insurance purposes), and suffered a poor by today's standards 0–60 time because of this. However, it quickly made up for that once it got moving. The car unrestricted is said to be able to exceed speeds of up to 175mph, though no actual claim has been proven due to the rarity, value and collectibility of the car, making anyone who owns one reluctant to try it.
Both model years featured a toned down exterior, as compared to other Mustangs of the era (see Boss 351, Boss 302, Mach 1), in that the only external identification of the car were the Boss 429 decals on the front fenders and unique hood scoop. The rest of the car featured a very clean look that was atypical of most Mustangs that Ford had produced which could be deceiving to some people. Source:Don Eichstaedt,Resident Engineer Kar Kraft Brighton Assy.Plant - 1969/70 Kar Kraft - 1966/1970 Ford Motor Company - 1971/1991
To show just how special these cars were, they were given special NASCAR identification that was placed on the driver's side door. Each car was given a "KK" number which stood for Kar Kraft. KK #1201 was the first Boss 429 and KK #2558 was the last Boss 429 made.
Unfortunately sales started to drop off for the 1970 Boss 429 Mustangs and with higher production costs, gas costs, and other internal Ford problems, it was decided that 1970 would be the last year of the Boss 429.
In 1969 there were 859 Boss 429s made by Ford Motor Company, two of which were Cougars for the Lincoln/Mercury Race Division. There were five different colors available in 1969 (Raven Black, Wimbledon White, Royal Maroon, Candy Apple Red, and Black Jade), and the only color for the interior was black. The fully functional hood scoop was the same color as the car, and noticeably larger than anything else offered on any Ford product at the time, with the exception of the two Boss 429 Cougars. This scoop would carry over to the 1970 model year but would be painted black on all cars. To this day, it is the largest factory hood scoop ever installed on a factory produced Mustang. All these cars were a manual transmission, and there was no air conditioning available due to the size of the engine. Though not originally offered as an option, it is common to add a spoiler and window louvers commonly seen on 1969–1970 Mach 1's and Boss 302's. Some early cars were known as "S" code cars and as such had a slightly different engine. These cars had magnesium valve covers, NASCAR style forged internals, nearly no smog or emissions equipment and are said to be more powerful than the later "T" and "A" code engines which had the emissions related equipment to satisfy government regulations. The engines in some cases were removed from the cars for use in other applications such as tractor pulling, due to the extreme torque and horsepower the engine was capable of producing.

A new "luxury" model became available starting for 1969, available in only the hardtop body style. The 'Grande' featured a soft ride, 55 pounds (24.9 kg) of extra sound deadening, as well as deluxe interior with simulated wood trim. It was popular with buyers with 22,182 units sold through 1969.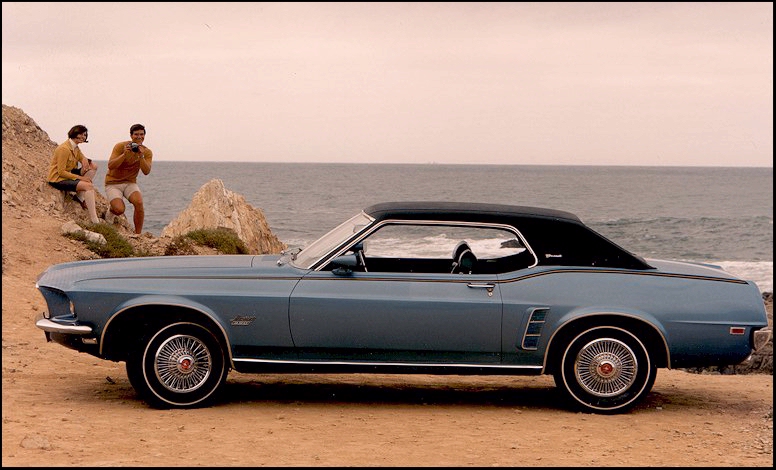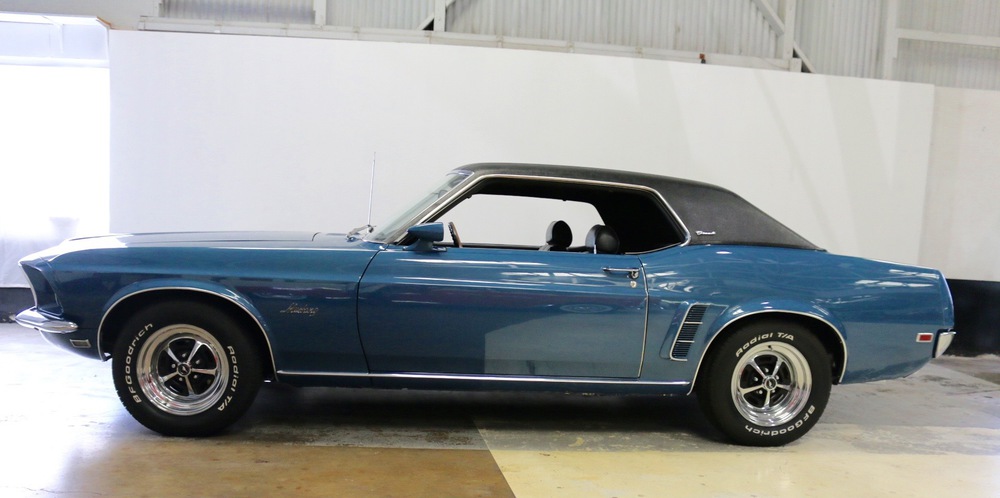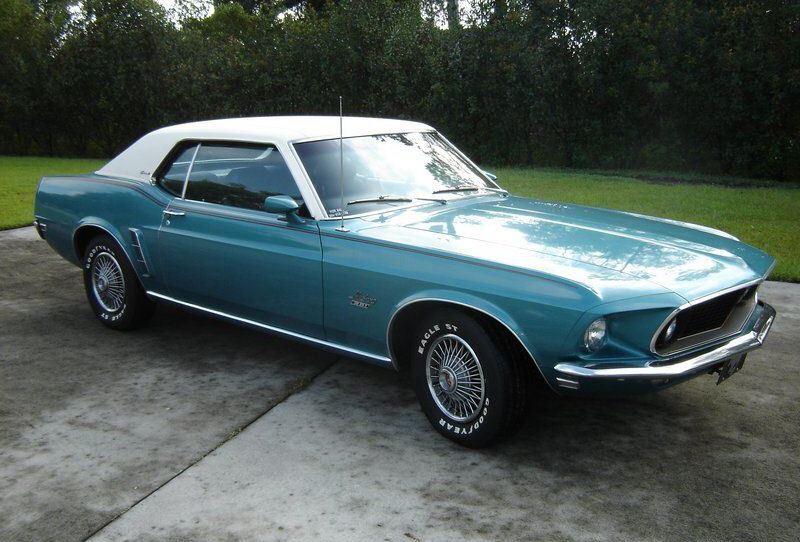 Amidst other special editions, the 1969 Mustang E was offered for those desiring high mpg. The 1969 Limited Edition Mustang E was a rare (about 50 produced) fastback special model designed for economy. It came with a six-cylinder engine (250 cu in (4.1 L)), a high stall torque converter for the standard automatic transmission and a very low, 2.33:1 rear axle ratio. Mustang E lettering on the rear quarters identified the special Mustang E. Air conditioning was not available on the 'E' model.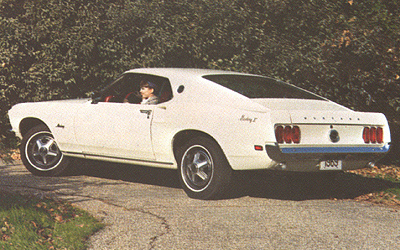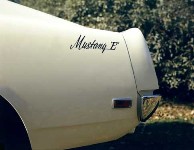 The Mustang GT was discontinued in 1969 due to poor sales versus the success of the new Mach 1 with only 5396 GT models sold that year.

A new 250 cu in (4.1 L) Thriftpower I6 engine with 155 hp (116 kW; 157 PS) filled the gap between the existing 200 cu in (3.3 L) Thriftpower I6 and the V8 engine line-up.

Although 1969 continued with many of the same basic V8 engines available on 1968 models, notably a now revised 302 cu in (4.9 L) Windsor engine with 220 hp (164 kW; 223 PS), the 390 cu in (6.4 L) FE with 320 hp (239 kW; 324 PS) and the recently launched 428 cu in (7.0 L) Cobra Jet engine (with or without Ram-Air) with an advertised 335 hp (250 kW; 340 PS), a variety of revised options and changes were introduced to keep the Mustang fresh and competitive including a new performance V8 available in 250 hp (186 kW; 253 PS) or 290 hp (216 kW; 294 PS) tune known as the 351 cu in (5.8 L) Windsor (351W), which was effectively a stretched and revised 302 cu in (4.9 L) to achieve the extra stroke.

The 428 cu in (7.0 L) Cobra Jet engine continued unchanged in the 1969 model year and continued to be advertised at just 335 hp (250 kW; 340 PS) despite being closer to 410 hp (306 kW; 416 PS). However, whenever a V or W axle was ordered (3.90 or 4.30 locking ratio) on any Cobra Jet Mustang, this kicked in various engine improvements which were designed to make the engine more reliable on the strip. These improvements included an engine oil cooler (which resulted in AC not remaining an option), stronger crankshaft and conrods and improved engine balancing and was named the 'Super Cobra Jet'. On the order form, these improvements were later referred to as 'Drag Pack'. Today, these models request a premium price despite offering no notable performance increase other than provided by their unique axle ratios.

The 1969 Shelby Mustang was now under Ford's control and made to look vastly different from regular production Mustangs, despite now being built inhouse by Ford. The custom styling included a fiberglass front end with a combination loop bumper/grille that increased the car's overall length by 3 inches (76 mm), as well as five air intakes on the hood. Two models were available, GT-350 (with a 351 cu in (5.8 L) Windsor (351W) producing 290 hp (216 kW; 294 PS)) and GT-500 (with the 428 cu in (7.0 L) Cobra Jet engine), in both sportsroof or convertible versions. All 1969–1970 Shelby Mustangs were produced in 1969. Because of dwindling sales, the 789 remaining 1969 cars were given new serial numbers and titled as 1970 models. They had modified front air dam and a blackout paint treatment around the hood scoops