| | |
| --- | --- |
| | 1971 Mustang |
Click on an image below to enlarge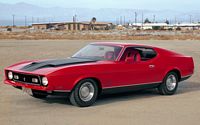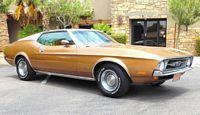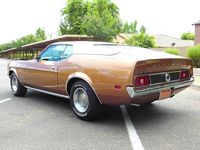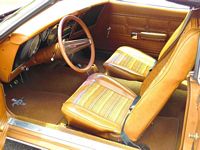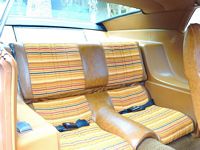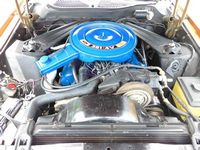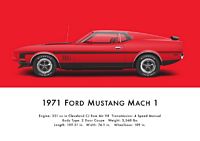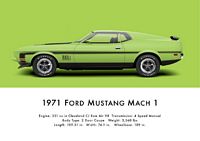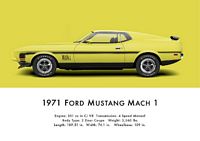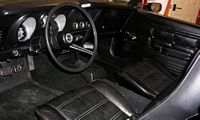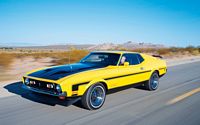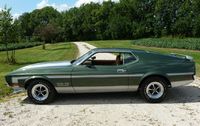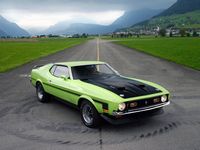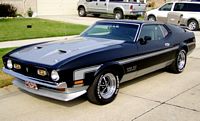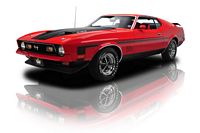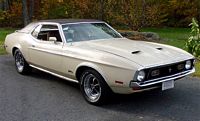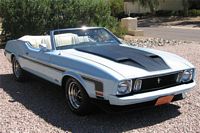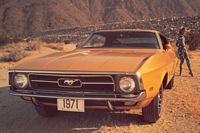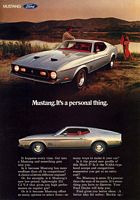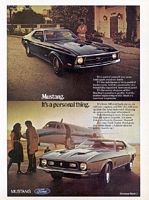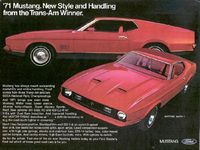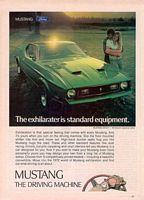 The 1971 Mustang - introduced in September 1970 - was green-lighted by Ford's new president, Semon "Bunkie" Knudsen, formerly of General Motors. Again, the revised model grew in size, gaining 3 inches in width in order to accommodate Ford's big block 429 cu in (7.0 L) V8 without need for an extensive suspension redesign.

As in model years previous, there were three body styles offered: Hardtop (available in base or Grande trim), Sportsroof (available in base or Mach 1 trim), and Convertible (no specific trim packages available).

The new 1971 hardtop featured a prominent "tunnelback" rear window design with flowing rear pillars, a completion of the styling exercise of the outgoing 1970 model. Hardtops with 'Grande' trim gained a vinyl roof and Grande badges on the C-pillars.

An additional edition, the Spring Special, was available between March and May 1971, which added Mach 1 styling cues (side stripes, tu-tone paint, urethane bumper, honeycomb grill with sportlamps) to the hardtop.

Sportsroof models were available in base configurations in addition to the Mach 1 and Boss 351 sport/performance options.

The Mach 1s were available with two-tone paint schemes, optional hockey-stick stripes, NACA (NASA) hood scoops (functional on examples ordered with Ram Air), color keyed side mirrors, and additional sports/performance options. All Mach 1 models came stock with urethane front bumpers and an alternate grille equipped with amber sportlights. Though the Mach 1 is often associated with the NACA hood (a no-cost option) and other styling cues, base Mach 1s could be had with the standard hood and the 302 2V engine.

Boss 351 examples were similar in appearance to the Mach 1, and included a larger black-out hood than Mach 1's, front and rear spoilers, dual exhaust with no rear valance cutouts, and chrome bumpers paired with the sportlamp grille.

Convertibles were equipped with a power top and a glass rear window. The 1973 models were the last Mustangs available as a convertible until 1982- the '83 model year. Convertibles featured no unique exterior visual package of their own during their first year of introduction.