| | |
| --- | --- |
| | 1972 Mustang |
Click on an image below to enlarge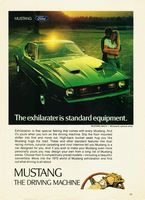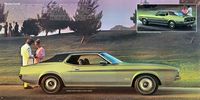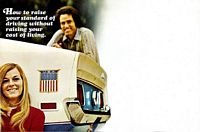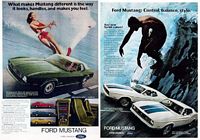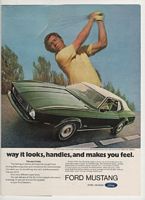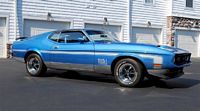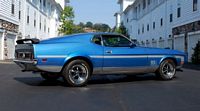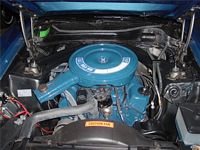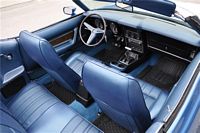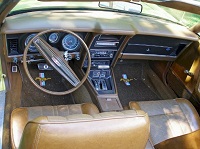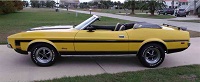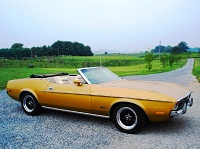 Due to tightening emissions regulations, the Boss 351 edition and optional 429 big block were dropped after the 1971 model year, leaving the 351 cu in (5.8 L) variants as the largest available engines for 1972 (and 1973).

Exterior differences were virtually unchanged, though all 1972 models were revised with "Fasten Seat Belt" warning lamps on the right side dash panel. The "Decor Group" exterior trim package was also revised, allowing coupe and convertible owners to option their car with tu-tone lower body paint, plus the honeycomb sportlamp grille from the Mach 1/Boss 351 and the Mach 1's urethane bumper.
A commemorative Olympic Sprint Edition (also available on the Pinto and Maverick) was released between March and June of this 1972. Sprint editions were available in Hardtop and Sportsroof variants, and featured white paint schemes with light blue accents and USA shield decals on the rear quarter panels. An additional 50 Sprint convertibles were produced exclusively for the 1972 National Cherry Blossom Parade in Washington D.C.

1972 saw the end of the special Ford muscle car performance engine era. At mid-year, Ford offered a slightly detuned Boss 351 engine, which could be ordered with any model. Only 398 Mustangs were built with the drag race oriented R code motor and was designated as the 351 HO. Mandatory options were the top loader 4 speed, competition N case rear end (427, 428, 429, Boss 351, 351HO), and air conditioning delete. Vacuum operated Ram Air was not available, however the HO came with the first full time cold air induction system in a Mustang, routing cold air via a 2 piece plastic duct under the battery tray to the air cleaner snorkel. All 351 HO cars were manufactured in Dearborn, MI.