1974 Mustang
The Mustang II years ...




1974 TV Commercial

Lee Iacocca poses with the 2 Mustangs he brought to market
in a 10 year span
Click on an image below to enlarge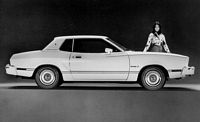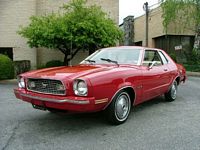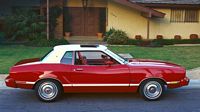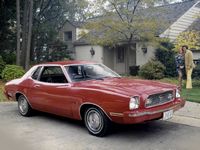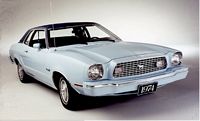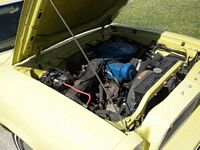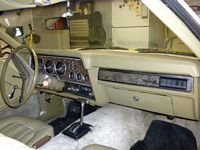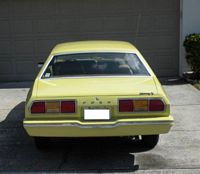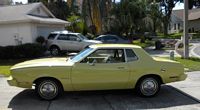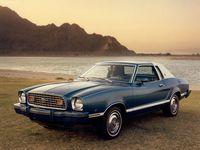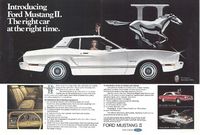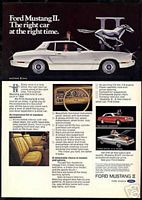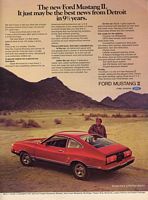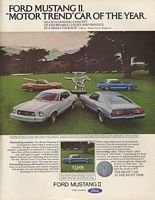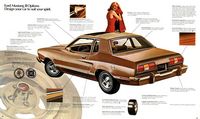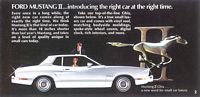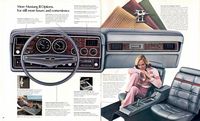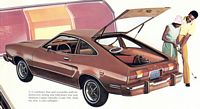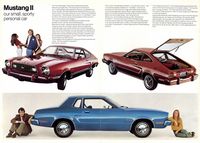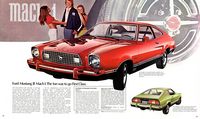 The Mustang II was in the works long before the Organization of Petroleum Exporting Countries (OPEC) decided to squeeze world oil supplies. That it appeared at virtually the same time was mere coincidence, though a lucky break for Ford.

In several ways, the Mustang II shows how history repeats itself in the automotive world. For starters, Lee Iaccoca just knew the market was ready for it in the same way he suspected the original Mustang was the right car for its time. Pony cars were falling from favor by 1970, with many buyers turning to lower-priced, fuel-efficient compacts like Ford's own Maverick -- a huge first-year success itself.

But Americans were also turning on to sporty 2+2 import coupes like Ford's own British/German Capri, which bowed in April 1970 to good reviews and strong initial demand. Another "captive import," GM's German-built Opel Manta, was selling well, and the Toyota Celica was more popular still. In 1965 such "mini-pony cars" attracted fewer than 100,000 sales, but by 1972 were up to around 300,000 -- and expected to go above 400,000 by '74. Mustang II's mission was to capture a big slice of this sizable new pie.
Ford design vice president Eugene Bordinat gave full credit to Iacocca for the Mustang II: "he was the first guy to come along [at Ford] who had the feeling for cars that had existed in General Motors for some time."
For his part, Iacocca observed: "When I look at the foreign-car market and see that one in five is a sporty car, I know something's happening. Look at what the Celica started to do before the two devaluations [of the dollar] nailed it! Anyone who decides to sit this out just ain't gonna dance!" But Ford didn't start out to start over.
The Mustang II program actually dates from around the middle of 1969, when work began on what was then simply the next Mustang. With muscle-car mania still raging, first thoughts inevitably centered on larger, heavier-looking designs, reflecting Ford's belief that buyers would still want roomy, "impressive" pony cars in the mid-Seventies. In fact, early proposals were even more hulking than the '71 Mustang then nearing completion. But by the time Iacocca became Ford Motor Company president in 1970,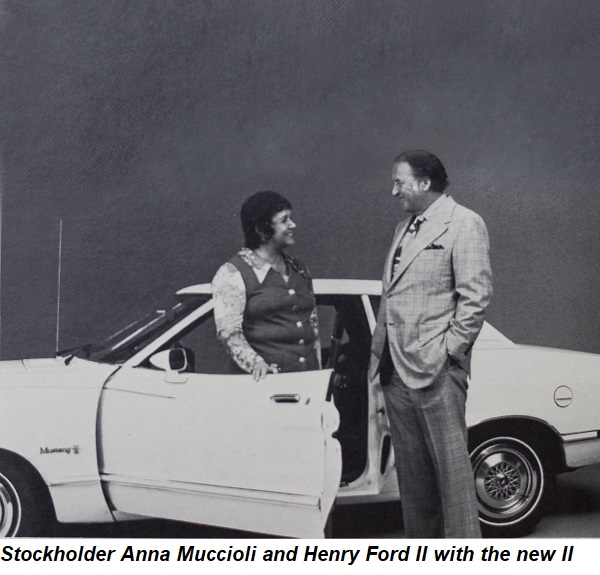 the bottom had dropped out of the pony car market, and the imported Capri -- which Iacocca said was more like the original "than any Mustang we have today" -- was doing solid business at Lincoln-Mercury dealers.

Iacocca had never liked Bunkie Knudsen's '71 Mustang, and it wasn't just because the man who backed it had been favored with the president's chair. Iacocca had been troubled by Mustang's course since 1966. He wasn't alone. As author Gary Witzenburg related, the grumbling had been going on at least since 1968. At that year's stockholders meeting, one Anna Muccioli, who owned a '65 Mustang, rose to ask Henry Ford II: "Why can't you just leave a small car small?…you keep blowing them up and starting another little one, blow that one up and start another one…why don't you just leave them?" To her likely surprise, the chairman said he agreed. "Hopefully we will keep in mind what you say here and, hopefully, we will have a product that will be satisfactory to you."

Designers and engineers worked feverishly on a "reinvented" Mustang, mimicking the first version, by the traditional new model year introduction during the fall of 1973. The new Mustang II returned to a size closer to the 1965 model, ultimately winning the Motor Trend Car of the Year. The economical Mustang II became popular for consumers almost concurrently with their experience with gasoline rationing that was part of the 1973 oil crisis.

"Just as the original Mustang had been based on mundane Falcon components, Iacocca and company decided to use some of the parts from the new-for-1971 subcompact Ford Pinto as the basis for the Mustang." The new Mustang was viewed as a "fun-to-drive economy" car, but "in reality it shared its underpinnings with the ... Pinto." The Mustang II carried handling and engineering improvements, its performance was comparable to contemporary Detroit products.

Competitors also included the Toyota Celica and the Datsun 240Z. Sales of such imports attracted fewer than 100,000 customers in 1965, but by 1972 demand had increased; therefore, the "Mustang II's mission was to capture a big slice of this sizable new pie."

Available as a coupe or three-door hatchback, the new car's base engine was a 140 cu in (2.3 L) SOHC I4, the first fully metric-dimensioned engine built in the U.S. A 171 cu in (2.8 L) V6 was the sole optional engine. Mustang II packages ranged from the base "Hardtop," 2+2 hatchback, a "Ghia" luxury group with vinyl roof, and a top of the line V6-powered Mach 1. A V8 engine option would not be available in a Mustang for the only time for the 1974 model year (except in Mexico).

"The Mustang II's attractive all-new styling was influenced by coachbuilder Ghia of Italy, which had recently been acquired by Ford. It carried through the long-hood, short-deck theme of the original, and as Iacocca requested it came as a notchback and hatch-equipped fastback." Mustangs lost their pillar less body style; all models now had fixed rear windows and a chrome covered "B" pillar that resembled a hardtop, but in fact was a coupe. In Mustang advertisements, however, Ford promoted the notchback coupe as a "Hardtop".

Almost replicating the initial 1965 Mustang's sales rush, "even without any real performance appeal, the '74 Mustang II brought buyers running into Ford dealerships." First-year sales were a smashing 385,993 cars, within 10 percent of the original Mustang's 12-month production record of 418,812. This made the first year Mustang II the 6th best selling Mustang of all time.