! -- disable viewing of source code >
1975 Mustang
The Mustang II years ...
Click on an image below to enlarge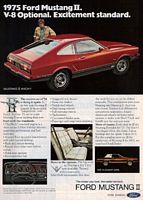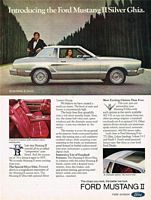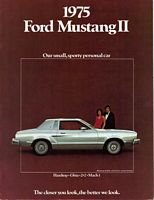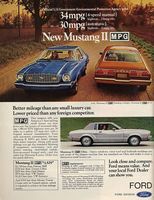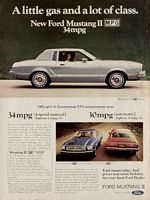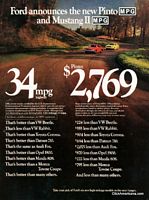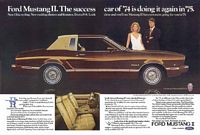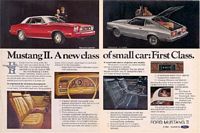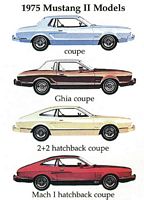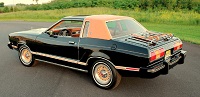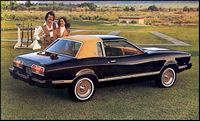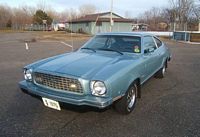 "With oil crisis memories starting to fade" Ford needed a V8 in the Mustang II to return "performance to respectable levels." The engine bay was re-engineered to accept the 302 cu in (4.9 L) V8 option for the 1975 model year, with revised hood and header panel. The engine was limited to a two-barrel carburetor and "net" 140 hp (104 kW; 142 PS). Since Ford's Mexican division never lost the V8, they assisted in the modifications.

Testing by Road & Track "recorded zero to 96 km/h (60 mph) in 10.5 seconds, and a top speed of 171 km/h (106 mph)." The Mustang II's 302 cu in engine became Ford's first officially designated metric V8 Mustang; it was called the "5.0 L" even though its capacity was 4.942 L.

Other than the optional V8 engine, the car underwent minor changes in 1975. The Ghia received opera windows and a padded vinyl half-top. In mid-year, a 2.3 L "MPG" model was added, featuring a catalytic converter and a 3.18:1 rear-axle ratio (standard was 3.40:1) to claim EPA-version economy estimates of 23 mpg‑US (10 L/100 km; 28 mpg‑imp) in the city and 34 mpg‑US (6.9 L/100 km; 41 mpg‑imp) on the highway. To underscore fuel efficiency, all base 2.3 L Mustang IIs were called MPG after 1975.

The Mustang II achieved record sales for 1975, making it the 9th best selling Mustang of all time, with 199,199 sold.
| | |
| --- | --- |
| | |
| Last updated: All Rights Reserved | Mustang Museum Online |